Looking for the most scalable web messaging solution?
MigratoryData is an ultra-scalable and reliable publish/subscribe web messaging solution leveraging WebSockets and extending Apache Kafka. It is commonly used for real-time web & mobile apps with millions of users.
Add real-time features in minutes
MigratoryData exposes a simple publish/subscribe API over WebSockets connections with libraries for the most popular platforms and languages, including iOS, Android, JavaScript, Java, C#, C++, Node.js, Python, PHP, and more.
Scale efficiently to millions of users
A single MigratoryData instance can handle 10 million concurrent users with substantial outgoing messaging traffic, of the order of 1 Gbps. Besides, MigratoryData can be clustered to scale horizontally.
Both high vertical scalability and linear horizontal scalability provide our customers with large cost savings as they can handle considerably more users and message volumes with less hardware and less maintenance.
Scale reliably to millions of users
MigratoryData implements active/active clustering, replication, and distributed in-memory caching to achieve guaranteed message delivery despite hardware failures or network disconnections.
Moreover, MigratoryData is designed to achieve high scalability without sacrificing guaranteed message delivery as detailed in the paper "Reliable Messaging to Millions of Users with MigratoryData" presented at the ACM/IFIP/USENIX Middleware International Conference.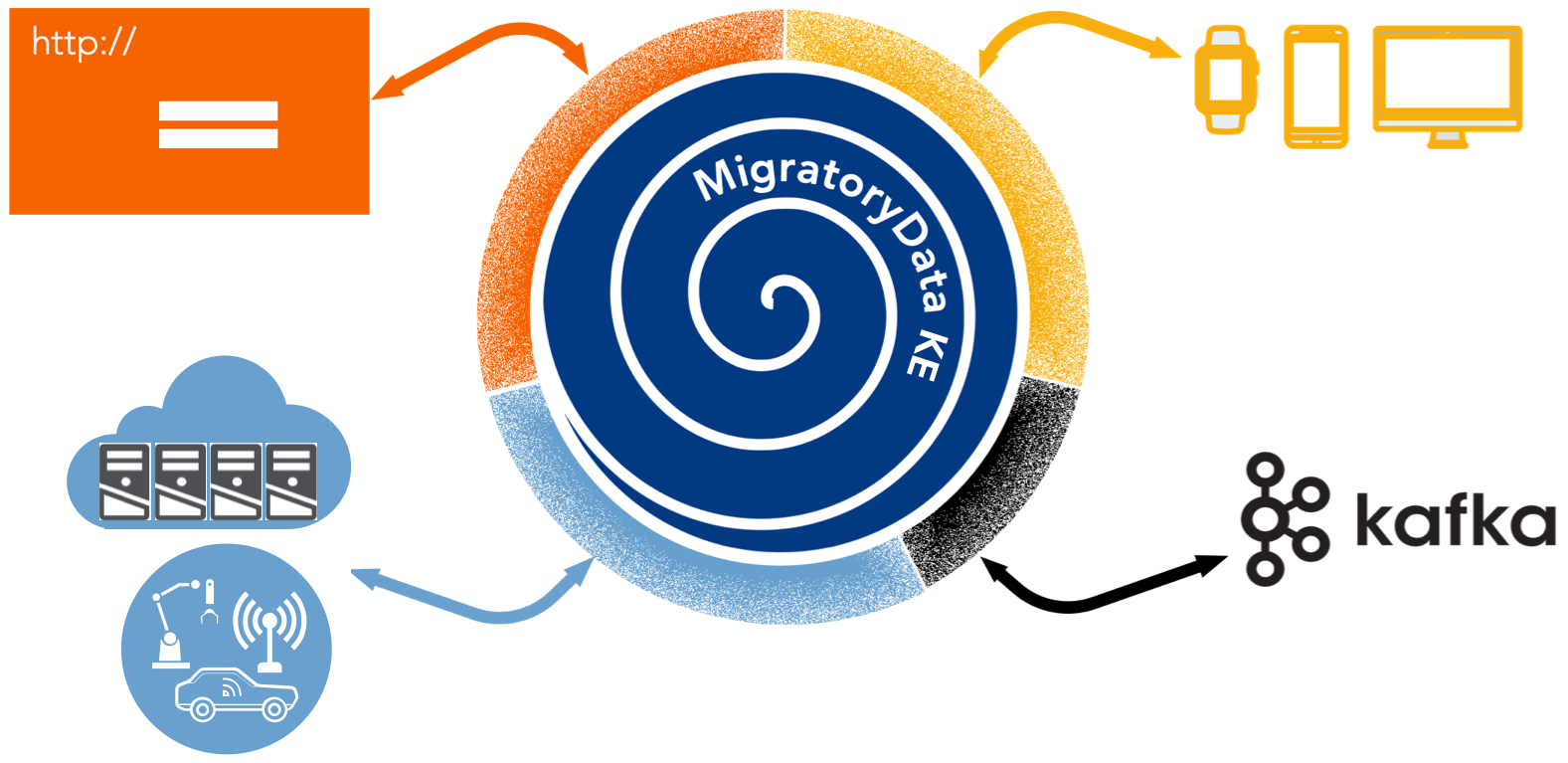 Universal API & Kafka Integration
Use MigratoryData's publish/subscribe API to build real-time web and mobile apps that communicate with your backend services in real-time.
Extend your Kafka ecosystem across the Internet to stream data in real-time to and from your web and mobile users using MigratoryData's off-the-shelf integration with Kafka.
Get a foretaste of MigratoryData
Copy/paste the code below into your terminal to send a message to the MigratoryData server, which, in turn, will push it to this web page.
Testimonials
What our customers say
Morningstar
"MigratoryData technology is a key part of the software we have developed to help our clients lower their support, hardware, and software costs, eventually allowing them to replace their older thick-client terminals with a browser-based, thin-client application with all of the same capabilities but none of the system overhead."
Chris Boruff — President of Advisor Software, Morningstar
Heritage Auctions
"MigratoryData has allowed Heritage to take our real-time auction bidding system to the next level; providing more scalability, reliability, flexibility, and mobility than any of its competitors. MigratoryData's support is also second to none."
Ryan Sokol — Director of Web Technology, Heritage Auctions

Get started for free
Download MigratoryData or MigratoryData KE for free and use it for evaluation for 45 days. It is fully functional, up to 100 concurrent connections, with no feature restriction.
Questions?
We look forward to learning more about your application requirements and to providing you with the information you need to make a decision.